Windows
Great windows for your home or business do more than just add to the ambiance and curb appeal; they also provide insulation, which keeps indoor temperatures more comfortable, reduces excessive noise, and keeps your energy bills consistent.
At Doppler Construction, Inc., we offer window replacement services in Crown Point and surrounding areas of Indiana that are designed to improve the look of your home and business and its efficiency.
Window replacement works to reduce heat loss and heat gain respectively during winters and summers. Coming in a wide array of styles and designs, windows serve as focal points of homes while regulating indoor temperature via natural ventilation. Window replacement, taking your windows from older and heat leaking windows to new, double hung windows, or adding more modern, energy efficient windows requires a little effort. Doppler Construction can help. Find out more about the energy efficiency that Doppler Construction window replacement can offer to you and your family. Save money, save energy and save the environment.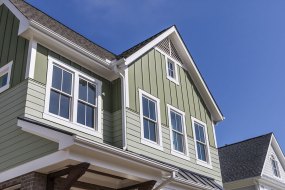 Do You Need Window Replacement Services?
Window replacement services are a must at some point over the course of a structure's lifetime. You know it's time to replace your windows if windows are:
Broken or damaged (windows have holes or cracks, or have warped within their frames);

Reducing the value of your home – in many cases, a home's value can improve significantly simply by upgrading the windows;

Drafty, which you will be able to tell by standing next to your windows or placing a hand to their seams – if you feel cool air coming through, replacement may be necessary; or

Causing your energy bills to get the best of you, and you want to cut costs by installing new, energy-efficient windows.
You may also want to replace windows if you are ready to give your home a facelift or want to upgrade your style. In any case, replacement windows are almost always more energy efficient (especially if you go for a window that is made specifically to be energy efficient), reduce drafts, keep utility bills down, and look great.
How Doppler Construction, Inc. Can Help
At Doppler Construction, Inc., we know the benefits of new windows, and know that taking your old, heat-leaking windows out and replacing them with new, double-hung windows or other modern, energy-efficient windows isn't as big of a hassle as you're probably thinking it is. In fact, we have done numerous window replacement projects over the years, and can say that window replacement is one of the easier home improvement projects that we take on.
Not only will we handle all parts of your new window installation, but we will also remove old windows, as well. We can also advise you when it comes to picking the right windows for your energy needs, home style, and budget.
Why Work with Doppler Construction, Inc.
Our Indiana window replacement business is family owned and operated, and is three generations strong. We are a local company that truly cares about pleasing the customer, which is why we pay extra attention to quality and craftsmanship.
We have great customer reviews, have been in business for more than a decade and a half, are accredited by the Better Business Bureau (BBB), and have an A+ rating from the BBB as well. With no customer complaints filed against us, we're a company that you can feel good about working with.
If you want to learn more about our replacement window services and why working with us is the best choice for your home and your budget, please contact us today. You can reach us at 219-661-1011, or send us an email at john@dopplerconstruction.com. We look forward to working with you!